Congratulations to all who participated in the One Heath Student Challenge on Saturday, March 24, 2018!
MSU and University of Saskatchewan held the final One Health Student Challenge with students from all corners of the world. They worked virtually to study water scarcity and then compose a presentation. True global citizens!
The team selected as best using the One Health Framework:
Tatiana Maine-Brown, College of Natural Sciences (Human Biology), Michigan State University; Cassy Andrew, (Western College of Veterinary Medicine), University of Saskatchewan; Natalie Lyric Kagole, (Psychology), Michigan State University; Kasey Keohane, College of Agriculture and Bioresources (Animal Bioscience), University of Saskatchewan along with Graduate Facilitator: Huiyun Wu, College of Engineering (Environmental Engineering), Michigan State University
---
The One Health Challenge is an all-inclusive collaboration between medical practitioners in both human and animal health alongside other scientific and environmentally related disciplines.
Overview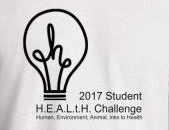 More than 700 prominent physicians, veterinarians, researchers, as well as communications and social science scholars worldwide have endorsed the action-oriented effort. There is a critical, global need for a One World, One Health concept stemming in part from divisions between human medical and veterinary medicine practitioners, food transport and security systems, and environmental challenges, which have hampered care delivery, educational programs, communication campaigns, and public health systems.
Michigan State University will help lead to bridge these divides. Our aim is knowledge-based, collaborative advocacy for optimal health through an integrated approach that will improve upon current health disparities and inequities.
The One Health global strategy provides a roadmap for understanding and administering a practical, hands-on One Health approach. It invites participation in multidisciplinary and interdisciplinary collaborations in order to provide a better quality of life worldwide.
---
In June 2018, the winners of the One Health Challenge were afforded the opportunity to travel to the 5th International One Health Congress in Saskatoon, Saskatchewan, with the support of the Canadian Studies Center.
Huiyun Wu, doctoral student, environmental engineering:
"Meeting the famous scientists was a great inspiration for me. This is the first time I met people who work in Biosafety level 3 and 4 labs, and I realize that they are like warriors in battlefield. The knowledge from textbook does not exist until they are discovered by the hard work of these senior scientists. In the meantime, scientist like Peter Doherty are advocating and encouraging young scientists and young professionals to get more involved in the One Health area. It is a great fortune for me."
Chelsea Weiskerger, doctoral student, environmental engineering:
"The trip was designed to develop our professional networks while learning more about One Health frameworks, research, and collaborative opportunities with other researchers and practitioners from around the world, while representing MSU...I feel as though I learned a lot about how to translate research articles into policy briefs, how to maximize the readability and usability of my scientific papers, and how to get (and maintain) the attention of policy-makers."
Natalie Kagole, freshman, psychology major:
"This trip invoked feelings of deep humility and gratitude for me, especially, because I have been very passionate about public health ever since my grandmother passed away because of misdiagnosis, which had increased her vulnerability to antimicrobial resistant infection. I did not expect for the IOHC to be so relatable to my personal experience. There were so many presentations on practical solutions to antimicrobial resistance in Africa as well as a special track solely dedicated to antimicrobial resistance. Just what I needed."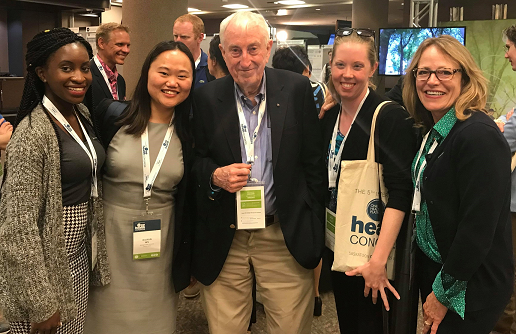 L to R: Natalie Kagole, Huiyun Wu, Nobel Laureate Peter Doherty, Chelsea Weiskerger, AnnMarie Schneider