Introduction 
The Canadian Studies Center blog features matters prominent to the Center's top priorities. MSU Faculty Affiliates and students submit pieces to highlight their work, the University, and Canada. The blog connects work across the University and brings attention to pressing issues and promotes further collaboration.
---
Spartan Alumni Spotlight 
January 11, 2021
CSC connected with Spartan Alumna, Camille Jordaan to gain insights about her about her MSU experience and career in Canada. 
Could you tell us a little bit about what you're doing now?
I completed a dual law degree, two years at MSU and two years at the University of Ottawa. After I graduated, I returned to Toronto. I've since pursued a nontraditional path in law. I did initially go into private practice with a law firm in Toronto and spent seven years in the tax, wealth management, investment management, and charities and not-for-profits groups there. Then, I decided to go into the wealth management industry, where I've been working in various wealth planning roles for the past six or so years.
What brought you to MSU?
I actually received a recruitment letter, and it was my mom who said, "Oh, this looks interesting! You know, you should think about applying." So I applied, not really knowing much about it, because I was just trying to figure out what I wanted to do. So then MSU came back with a scholarship offer and a laptop. It made it hard to say no, and I was looking for a change. So that's how I ended up in Michigan.
What do you remember most about your time at MSU?
The times with my friends. We had such an amazingly tightly linked group. It was two of the best years of my life. I had the best time hanging out with my friends. I just found the collegiality was something I hadn't really experienced in a Canadian school.
Who do you remember as influential during your time during your time at MSU?
The reason I got into tax, was my tax law professor. She's the one who sparked my interest in tax.
How did MSU prepare you as a global citizen?
Having lived in the US for two years, I just see so much positive. I really loved who I was down there. I've always felt more at home in the US. I have a big personality and I find, in the US that is just more acceptable than up here, even in a big city like Toronto!
What advice would you give to a Spartan looking to expand their global network?
I personally think if you want to be a global citizen, the best thing you can do for yourself is what I did, and go find things elsewhere. I think for graduates, especially when you're young and you just graduated, that's the time to try new things. Just keep an open mind in terms of living or working elsewhere. I think if you want to try something new and broaden your horizons, be open to trying new things when you graduate and, and maybe don't just look locally. It doesn't hurt you to apply to different places. So I would say apply widely and be open to different things.
Given that you have made Canada your home now, what do you appreciate most about Canada?
I think Canadians are very sincere people. There is sort of like a default niceness up here.
Is there anything else you'd like to share about you or your experience at MSU?
One of the things that's been really cool for me is learning that there are lots of MSU global alumni groups. I just love the idea that almost anywhere you go in the world, there is MSU family there if you want to reach out to them.
---
"Month of Thanks"
Due to university restrictions as a result of the pandemic, we are unable to host an in-person event for Canadian Thanksgiving. However, we so value your friendship and interest in the Center and would like to invite you to participate in a virtual Thanksgiving as a "Month of Thanks" in October. During the month of October we would like to celebrate you, thankfulness, and Canada. We would like to highlight previous Thanksgiving dinner attendees, as well as other friends of the Center through a social media campaign using our website, Instagram, and Facebook. We are inviting you to contribute through the following actions:
Please send us an email at csc(at)msu.edu by 10/5/20 and include the following:
Your name and relationship to the Center (i.e., faculty member, student, alumnus/alumna, community collaborator)
A sentence about you - where you are living and what you are currently doing
A statement of something for which you would like to give thanks related to Canada
A photo of you and/or the "something" to which you are giving thanks
Thank you again for your connection with the Canadian Studies Center. We look forward to breaking bread with you at a future Canadian Thanksgiving once we are able to return to campus.
With sincere thanks,
Rebecca Malouin
Interim Director, Canadian Studies Center
Director, Global Health Studies
Director of Research, Institute for Global Health
Associate Professor, Family and Community Medicine
Michigan State University
909 Wilson Road, Room B201
East Lansing, Michigan 48824
United States
Tel: +1 517-355-7542
E-mail: malouinr(at)msu.edu
Website: GlobalHealth.msu.edu
---
Canadian Studies Center director, AnnMarie Schneider transition 
May 13, 2020
My days as director of the Canadian Studies Center at Michigan State University are dwindling.
Travels through Canada – both recreational and for professional endeavors – give witness to the beauty of its people and landscape. It is difficult to pick one photo that brings it all together. In fact, it's impossible. So maybe you can envision these places enough to lure you there some day. There is no place like Canada.
Vancouver's coastline, dotted with seaplanes, is where I fell in love with Haida Art often seen in British Columbia's storefronts as well as its many museums. Up Canada's western coast from Vancouver, there is a small island near the Alaskan panhandle where lies Prince Rupert, a major port and supply chain hub that somehow keeps its small, harbor town charm.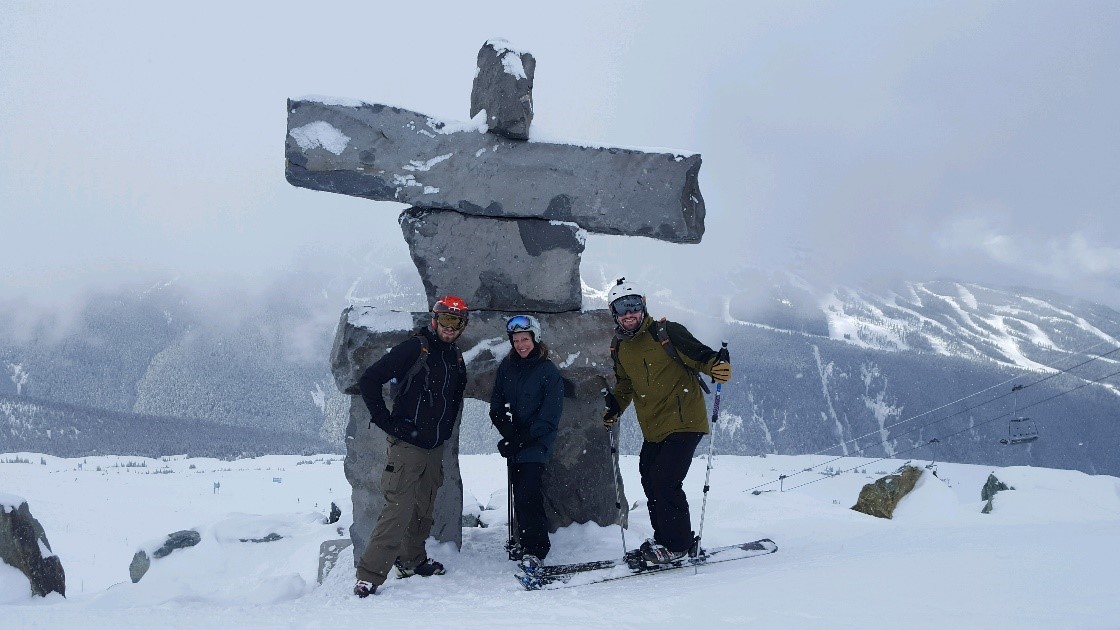 Once seen, the blues of Lake Louise at the base of the Canadian Rockies, the Athabasca Glacier straddling the Continental Divide, and Fort McMurray – surrounded by Alberta's boreal forest, are images never to be forgotten. I spotted my first natural avalanche in the mountain range right across from the Fairmont Chateau, walked the glacier in Jasper, and got an inside look at tar sands operations in Fort McMurray.

Calgary is the wildest west I have ever seen with its annual Stampede and mob of cowboys and rodeo queens in a back drop of snow-tipped mountains. The plains of Saskatchewan are most stunning when covered in yellow canola blooms and the city of Saskatoon is host to some of the most inspiring riverside sunrises in my memory. Keeping traditional knowledge of indigenous people present in their everyday routine strikes visitors as a unified effort across the province.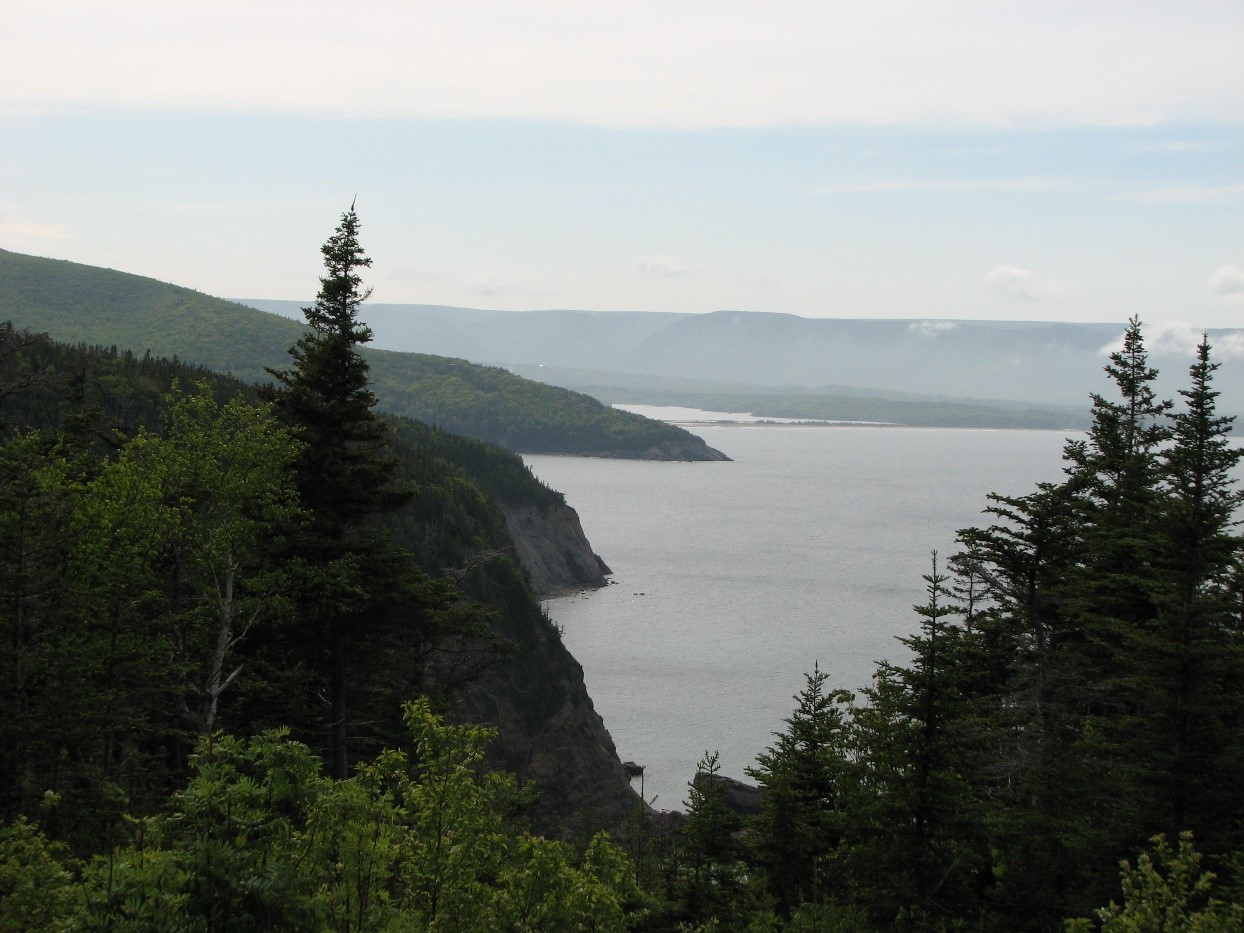 On Canada's east side, Nova Scotia's rolling green mountains in Cape Breton, and the floundering seals in the gush of water hitting against the rocky shoreline of outer Halifax are sights to be seen. Montreal and Quebec cities have the European history unlike anywhere in North America. Perhaps it's the heritage of our ancestors that sparks a feeling of wanting to belong when you walk Montreal's Old Town and observe Quebec fashion and art-decorated streets.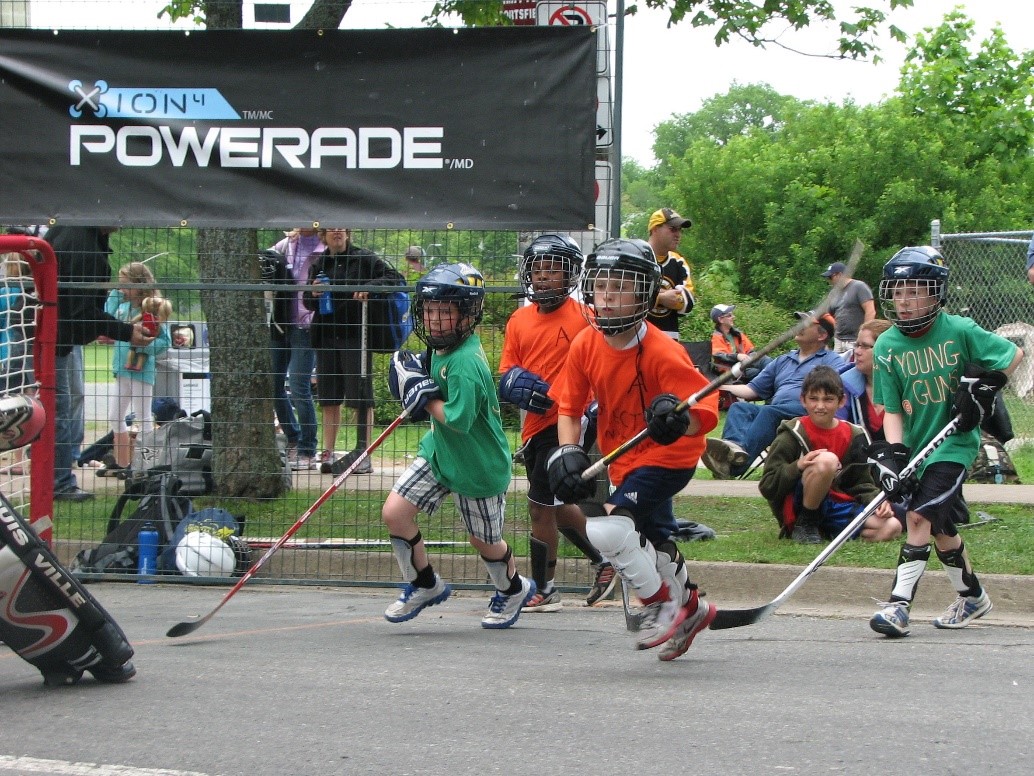 Further down the eastern coast, Toronto is surrounded by little league hockey in cottage towns like Kincardine and St. Catherine. The most diverse urban core in Canada, Toronto's global city status is heard in the various languages on the street, visible in its architectural skyline, and present in the smell of ethnic foods. Far different is the industrial side of Windsor which in many ways, mirrors its neighbor across the river, Detroit. Windsor is a familiar and welcoming place to Michigan residents and international scholars. 
There are places in Canada I have not yet been. Thankfully the journey of appreciation for Canada does not end with the job. I will be seeing you my friends. Thanks for making this journey possible and for continuing your support of the center so that others may also celebrate Canada.
Warm regards,
AnnMarie
annmarie(at)msu.edu
Former Director, Canadian Studies Center
International Studies and Programs
Michigan State University
---

MSU Faculty Member Feature
MSU's Canadian Studies Center
Welcomes Professor Verter

Vedat Verter, John McConnell Endowed Chair of Business Administration and Chairperson, Supply Chain Management, Michigan State University
In July of 2019, Vedat Verter joined the Broad College of Business here at Michigan State University as the John McConnell Endowed Chair of Business Administration and Chairperson of the Supply Chain Management Department. Verter was previously a McGill University Professor and brings 24 years of experience from the Desautels Faculty of Management in Montreal, Quebec, Canada. Professor Verter's areas of research are service chain design, hazardous materials logistics, sustainable operations, and healthcare operations management.  His work is presented in more than 70 research articles in refereed journals and is often cited, particularly in the field of healthcare such as preventive, primary, emergency, acute, and chronic care processes.  He is a Founding Director of the NSERC CREATE Program in Healthcare Operations and Information Management, which is a seven-University PhD/PDF training program across Canada.  He is the Editor-in-Chief of Socio-Economic Planning Sciences, an international journal focused on public sector decision making.  Sanjay Gupta, The Eli and Edythe L. Broad Dean, stated that SCM faculty members hold Professor Verter "in high esteem as a scholar and leader" as they "expressed strong enthusiasm for his candidacy."
---

CSC Interview Series: Dr. Imad Haffar
Submitted by
Liz Mack, Canadian Studies Center
James Madison College, May 2020
When Dr. Imad Haffar first decided to attend Michigan State University for his Ph.D., he was confident that the program would provide a quality education. In addition to this fulfilled expectation, Dr. Haffar developed a true sense of  global citizenship and passion for lifelong learning. His personal growth at MSU led him to a professional career executing high-level projects in over 34 countries. While evolving as a renowned international figure in sustainable development, Dr. Haffar has never lost touch with his Spartan roots. During a recent visit to East Lansing, the Canadian Studies Center sat down with Dr. Haffar, who currently lives in Toronto, to learn more about the role MSU has played in his journey. 
How did your life experiences bring you to Michigan State University?
In 1981, I was a graduate student finishing my MSc. Agricultural Mechanization at the American University of Beirut. I developed a great interest in research and in pursuing an academic career in this field. I visited the Kennedy Center in Beirut – A U.S. cultural center. While there, I did an extensive search of universities because online search and emailing were not around at that time. Two universities attracted my attention: MSU and Iowa State University- I applied to both. Fortunately, the speed at which MSU replied to me and the positive approach they showed made me quickly decide that MSU would be the place.
What do you remember most about your time on MSU's campus?
I had lots of very sincere and memorable events at MSU. My learning and research experience was full of hands-on work, I made lifelong friends while enjoying campus life and the various vibes it had on many occasions, teaching at MSU. Most memorable of all, I saw our twin girls born at Sparrow Hospital in Lansing.
What defined your MSU experience as compared to others? What might have been unique to your experience?
MSU has taught me that education is a life-long endeavor. It does not stop at the graduation ceremony but rather keeps growing to continuously position you as a true leader. MSU enhanced my critical thinking and determination to always improvise in finding practical, executable logical and beneficial solutions to problems that you and / or your company might face. MSU revealed to me the importance of communication and how it is a basic platform for progress and development. 
How did MSU prepare you as a global citizen?
I met a wide range of people from all over the world at MSU. We had the basement at Farrall Hall set for graduate students' offices. That basement was our home. Each office had eight desks and almost each desk was a different nationality. In my room I had Alex from Nigeria, Omar from Senegal, Angela from Brazil, Elena from Argentina, Xi from China and Steve from USA. What a beautiful global gathering. We shared national experiences and cultural diversity and had lots of fun together.
Who do you remember as influential during your time at MSU? Who would you advise students to find as mentors or life coaches?
I always remember how professional, caring and approachable the entire team of faculty and staff were around me. My graduate professor was with me as a mentor, teacher and friend in every moment that I spent at MSU. He was very supportive and understanding and continuously challenged me to think and find the best answer. Accordingly, I advise students to enjoy every moment of their stay at MSU. Those are your golden days. Cherish your experiences and make use of the marvelous facilities and opportunities. Yes, there are tremendous stresses on your shoulders including homework, exams and biggest of all finances. However, learn to turn liabilities into assets and let every challenge become a lively candle that lightens your road to a bright future. Reach out to others and seek help when needed. MSU has a lot to offer. Your friends and mentors are the most precious gift you get from MSU.
What advice would you give to a Spartan looking to expand their global network?
Trust yourself, your knowledge and the experiences you gain at MSU. They are abundant. Hit the road with strength and confidence like a true Spartan. I had never imagined upon my graduation that this degree would take me to over 34 different countries to execute high level projects.
Given that you have made Canada your home, in your opinion, what is the relationship between the USA and Canada?
The USA and Canada share a unique relationship that stems from strong and integrated social, cultural and economic affiliation. Family relations and business affairs go beyond borders to establish solidarity and policies that ensure the safety, integrity and prosperity of both countries.
We want to tell the MSU community and beyond the story that you want to tell. Is there anything else you would like to add about your experiences?
I feel very lucky to be a graduate of MSU. I am very proud to be a global Spartan and have been a strong advocate of MSU. In various occasions when I was an academician, students would seek my advice as to which University they should attend for higher education. I am thrilled to have assisted and encouraged seven PhD graduates from MSU, who now hold key positions around the world.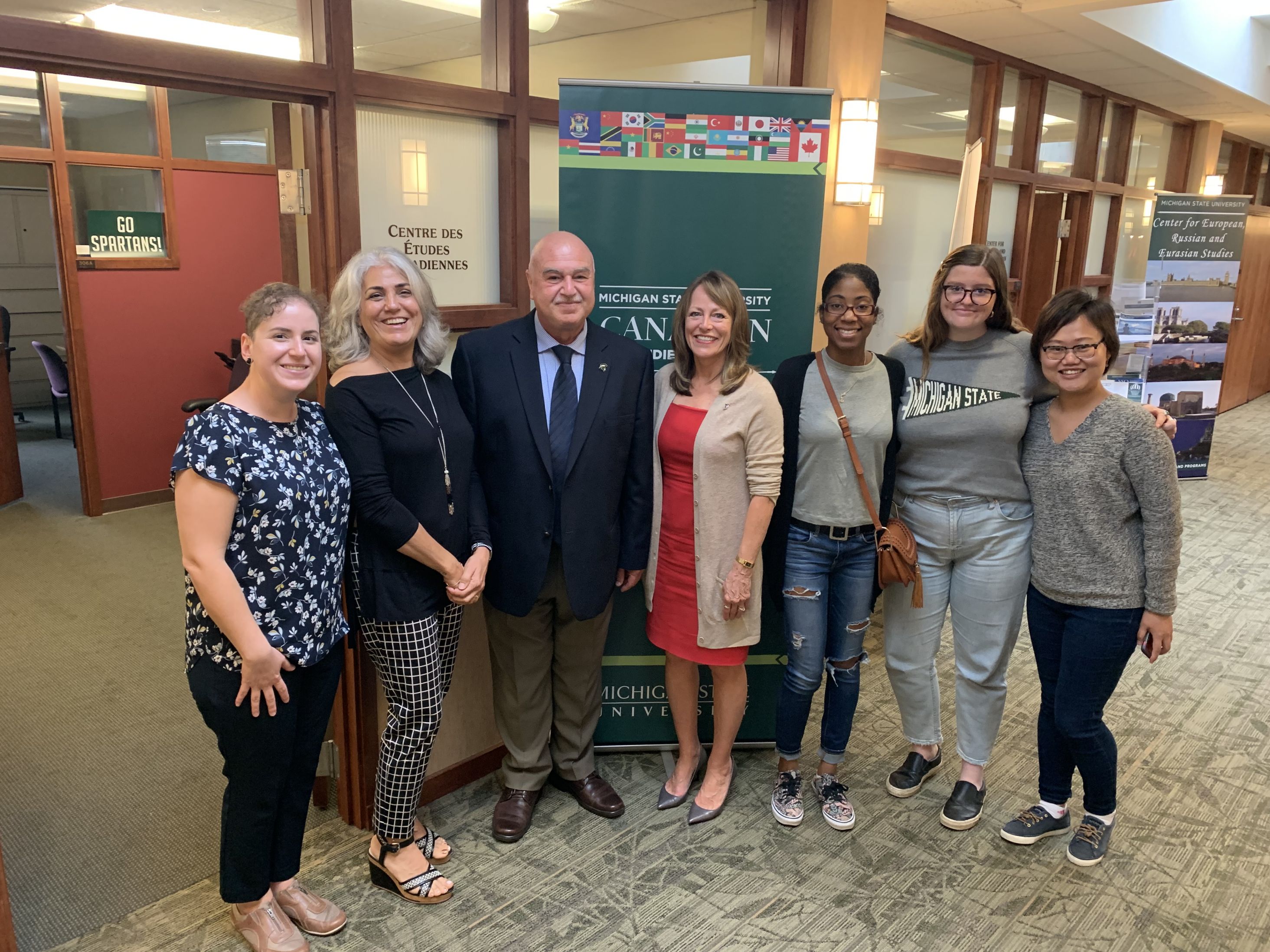 ---


My One Health Leadership Experience
Submitted by
Liz Mack, Canadian Studies Center
James Madison College, May 2020
Over the course of three days in Saskatoon, Canada, I had the opportunity to make international connections with fellow students, attend workshops, and connect with some of the nation's leading One Health experts. These opportunities came about through my participation in the University of Saskatchewan's (USASK) One Health Leadership Experience (OHLE) in August 2019. The invitation was extended through a partnership unique to Michigan State University's Canadian Studies Center and the College of Western Veterinary Medicine at USASK.
The concept of One Health is defined by the Center for Disease Control as "a collaborative, multisector, and transdisciplinary approach — working at the local, regional, national, and global levels — with the goal of achieving optimal health outcomes recognizing the interconnection between people, animals, plants, and their shared environment". My experience at OHLE provided substantial information on One Health— I learned about a variety of topics including zoonotic diseases, how owning a pet helps homeless people, social determinants of health, and also valuable life advice from a past president of the Canadian Medical Association.
As a Social Relations and Policy major at James Madison College (JMC), a residential college that focuses on public affairs and writing, OHLE provided a unique educational and professional experience for me. I have taken JMC health-related courses taught by talented professors but these classes are not geared toward health students or taught by health professionals. Over the weekend, I was able to make connections and have conversations with people I could never imagine myself interacting with at MSU. Spending the weekend with health-minded students and professionals reinforced the value and necessity of a multidisciplinary approach to public health as well as the importance of keeping each other, including policy makers, informed of the best health practices.
Establishing the importance of multidisciplinary communication is of course important at the professional level but it is also crucial for teaching and learning at the university level. Going forward I hope to incorporate this multidisciplinary approach to public health on campus, starting with integrating JMC students into the existing MSU One Health student group.
Many JMC students like myself are interested in exploring topics such as the U.S. healthcare system, social determinants of health, bias in medicine, and other public health related issues. However, they may go their entire college career without interacting with any like-minded students in health-related majors. One Health collaboration on campus will bring students together, initiate important conversations, and allow for multidisciplinary learning experiences. One Health has the potential to create real positive change on campus as well as in the community.
Going forward I will also be working to integrate my newfound knowledge and connections into my academic pursuits. I will be reaching out to Dr. Lou Franchescutti, the past CMA president I mentioned above, to learn more about his current work establishing homeless ICUs in Canada. I am interested to learn more from another presenter, public health veterinarian Dr. Judy Hodge, who works with an organization that pairs homeless people with pets. While I have been interested in homelessness advocacy for a while, I have never before learned about how pets can be a positive social determinant of health for those experiencing homelessness because they instill a sense of responsibility and purpose. I will continue to reach out to those whom I met at OHLE to further establish connections that I can potentially utilize in my academic and professional career.
Overall, I believe attending OHLE was highly beneficial to my academic, professional, and personal goals. While I no-doubt learned a lot from the presentations I attended, I also made lasting connections with multiple University of Saskatchewan students, became good friends with my travel colleague Chima Maduka, a PhD candidate at MSU, improved my networking skills, and grew as a person and leader- yes, all during only 3 days! Additionally, apart from these beneficial opportunities provided by the University of Saskatchewan, I experienced the importance of going outside of my comfort zone —both personally and academically— and that something I will carry with me throughout my academic and professional career. I am very grateful to have had the opportunity to attend OHLE and the experience would not have been possible without encouragement and support from the Canadian Studies Center and JMC.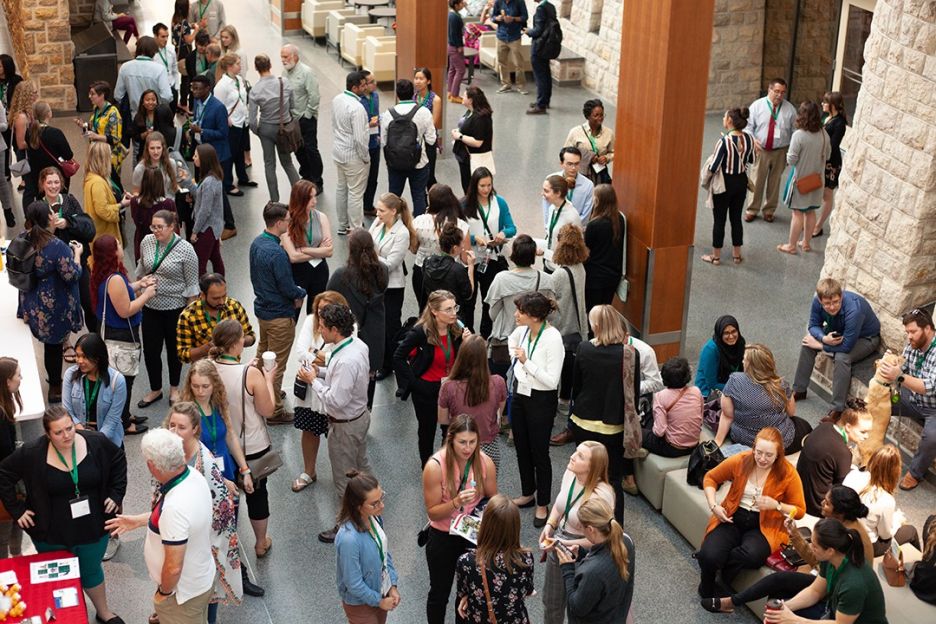 ---