The Canadian Legal Association (CLA) provides support and mentoring services for incoming and current Canadian students studying law at MSU Law. It is also responsible for providing information to both Canadian and American students regarding the Joint JD program, and for coordinating Canadian themed social and networking events at MSU Law.
Olivia Kurajain, President
kurajian(at)msu.edu
Sarina Saravi, Vice President
averyoli(at)msu.edu
Canada Club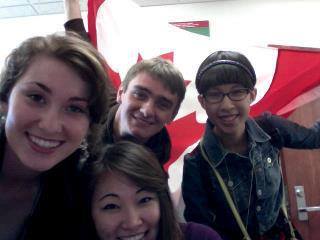 2020 Report on Canada Club
The CANADA CLUB varies from year to year, as it is up to the enthusiasm and motivation of the students to lead it. The center provides the support and infrastructure, but the real leadership has come from the students. The center director or a faculty member advises the student group but is there as an advisor, not the leader.
The Canada Club membership is made up of students who are interested to learn more about Canada, typically for one or more of the following reasons:
planning to get a job following graduation that works across borders, such as supply chain, or in a government office like the embassy or a consulate
planning to move to Canada and pursue a graduate degree
have dual citizenship or family lineage in Canada and want to know more
wanting a cross-border experience, study away or travel to Canada
pursuing French language and considering studying/working in Quebec
interested in Great Lakes stewardship from an environmental or historical perspective
searching out a leadership position in a student organization
connecting to a researcher in their field who is posted at a Canadian institution.
There are challenges to maintaining the Canada Club. The active status of the club depends on the student interest for that particular year. One energetic leader – typically connected to a priority of the center such as the Arctic or the Great Lakes – seems to determine how "successful" the club is for the year.
How do we manage the inconsistency? We routinely sponsor a few casual activities per year and have a CSC student staff person provide the leadership for the group. Activities have included:
Homecoming parade watch OR participation
Hockey Game with a Canadian Team
Women's Basketball Game
Paint the Rock
Additionally, we promote other activities that relate to Canada, such as providing lapel poppies for veteran's remembrance day and other historical events. Some clubs have arranged a student road trip to Toronto on their own, separate from the center. The CSC Club has also joined up with other student groups for cultural exchanges.
Most successfully, the center invites speakers, often suggested and hosted by students, to speak on current events and issues. The speakers can be from campus or the community, from government or as an activist. Speakers have also come to campus from Canada as a guest speaker for a class or special event.
Alternatively, we have lent our support to the clubs organized in other areas of campus while sponsoring the above activities so that the leadership and activity guidance comes from them. The Law School Group or MSU Canadian Legal Society and the Canada College of Osteopathic Medicine Student Association have always appreciated our widening the participation by encouraging our mailing list of
faculty and students to connect with them. We have included Canada Thanksgiving on these groups' agendas so that their membership is aware of the celebration. They typically attend every year.
For more information about the current year activity, please contact the center or connect with its social.